| | | |
| --- | --- | --- |
| | Senator Letter | |
August 31, 1999

Senator Christopher Bond
316 Hart Senate Office Building
Washington, DC 20510
Re: National Cystic Fibrosis Awareness Week
October 10-16, 1999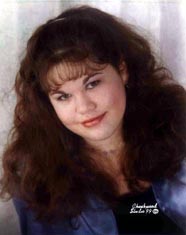 Dear Senator Bond,
My name is Mary Lou McDowell. I am the mother of two daughters, Melissa and Rachel. We live in Sikeston, Missouri. My 17-year-old daughter, Melissa, suffers from Cystic Fibrosis. CF is the #1 genetic killer in the United States. It affects approximately 30,000 children and adults. One in twenty-nine people are symptomless carriers. The median life expectancy is 31 years.

Melissa is a senior in high school, is in the top 10% of her class, a member of National Honor Society and was selected for Who's Who Among American High School Students. She has a very promising future. She is determined to succeed despite her health problems, and I am determined to give her the best opportunity to do just that. However, we don't know what lies ahead for her. It's like waiting for the other shoe to drop. She could have a dramatic decline in her health at any time.
The purpose of my writing today is to ask for your assistance. Melissa and I joined with other CF patients and parents across the country to form the National Cystic Fibrosis Awareness Committee. We have started an annual National Cystic Fibrosis Awareness Week. We will hold this week anyway, but we were hoping to get senators to sponsor a resolution to make it "official". We feel that this national exposure would have a great impact.
If CF is genetic and unpreventable, why do we need awareness? There are three ways in which I feel a national recognition will benefit.
1. CF is a little known and sometimes misunderstood disease. I believe increased awareness will result in increased understanding. Most patients are victims of the ignorance of the general public. Notions range anywhere from their "coughing is contagious" to they look fine, so they must be fine.People whom they come in contact with daily still have no clue. Awareness and understanding will improve their quality of life. Hopefully, this will bring CF to the forefront and relieve some of the misconceptions and ignorance that exist.
2. Early diagnosis is imperative. Although a small number of states do newborn screening, others do not. In our personal experience, Melissa was not diagnosed until the age of 8. She already had permanent lung damage. More awareness of CF and its symptoms could have prompted me to ask for the test earlier or prompted the doctor to see the symptoms. I don't know how many times people (including physicians) have said, "She sure doesn't look like she has CF." There is no "look". Gone are the days when CF patients look like malnourished individuals from refugee camps.
While most are diagnosed as infants and toddlers, nearly 8 percent are diagnosed at 18 or older when damage is already done. Increased awareness of the symptoms could prove helpful in promoting earlier diagnosis.
3. Increased awareness would most likely result in increased funding for research toward treatment and a cure. There was an article in the New York Times speaking about the future of gene therapy. It stated that companies were going to switch their focus to more widespread diseases, such as cancer, balding, etc., because of the greater potential for profit. This leaves the burden of finding a cure for CF ont he shoulders of the organizations dedicated to doing so (i.e. CF Foundation). This means in order to solicit donations, we must put the name "Cystic Fibrosis" on the lips of individuals all across the nation . The more people are familiar with the disease, the greater their potential for giving. Our loved ones lives depend on it.
Please consider this small act. It has the potential for a great impact on the lives of these children.
Sincerely,


Mary Lou McDowell
Proud mother of 17 year old, Melissa, with CF
And 14 year old, Rachel, CF Carrier




---